As developments surrounding COVID-19 continue to evolve rapidly, it wasn't that long ago that we faced another respiratory virus that caused significant illnesses, hospitalizations, and tragic loss of life.
In 2009, the H1N1 pandemic sickened hundreds of millions of people in more than 200 countries. For most, the symptoms were similar to other flus. But for some, the illness was much more severe. Burnaby's Alexandra Kroetsch was among those.
Alexandra, then 27 years old, became so weak she could barely walk. She was taken by ambulance to Royal Columbian Hospital (RCH), where doctors discovered that her lungs were infected so badly that they put her into an induced coma. She was hooked up to a life support system that oxygenated her blood outside her body because her lungs could no longer function normally.
"It was such a difficult time; you experience moments of absolute pain when you don't know if your child is going to survive," recalls her mother, Anna-Marie Lyons.
Alexandra's health was so compromised that the virus threatened her life more than once. At one point, her left lung and other organs were in danger of shutting down. Ultimately, her left lung was disintegrated and needed to be removed.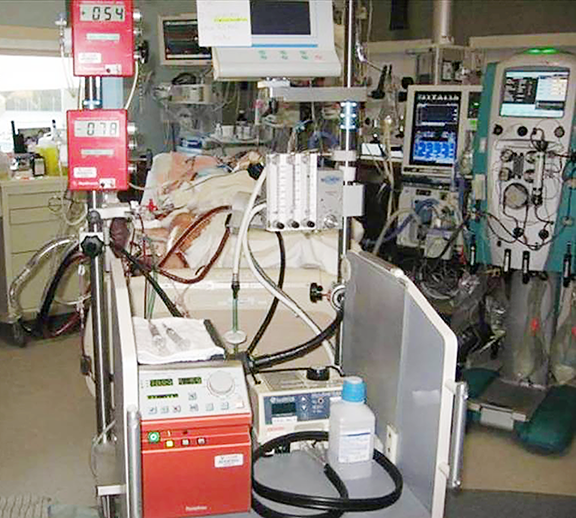 Alexandra Kroetsch suffered a deadly infection from the H1N1 virus. She's barely visible in this photo, as ventilators and heart and lung machines became her lifeline inside the Intensive Care Unit.
Fortunately, Alexandra had access to medical expertise and proper equipment, including a respirator funded by TB Vets for RCH. A team of doctors, nurses, surgeons, respiratory therapists and physiotherapists worked hard to keep her alive.
As for recovery, it was a long and exhausting journey. Alexandra had to first learn how to breathe and speak again with only one lung. But she grew stronger each week until she could breathe unassisted for nine hours, and then twelve. 
The life-changing experience made Alexandra feel closer to her loved ones. It also didn't stop her from going back to work and even sing again. "It was a wonderful feeling [to sing again], and very emotional," Alexandra shares.
Today the world faces another devastating pandemic and it has put into perspective just how essential it is to have access to life-saving respiratory equipment.
We ask you to please consider supporting TB Vets. Your donation will help address the changing needs of BC's respiratory frontline, and ensure that our hospitals always have access to respiratory technology that helps patients like Alexandra beat the odds every day.