by Courtney Steen, Recreation Therapist, TB Ward, Vancouver General Hospital
Support from TB Vets continues to be so important to recreation therapy interventions by allowing me to personalize interventions to each patient's needs and interests, be it a desire to have a small garden in their room to care for, a model car to build, a personalized photo book for reminiscing for a patient with dementia or art supplies for patients to be creative.
A significant change on the TB unit during 2021 was patient access to going outside.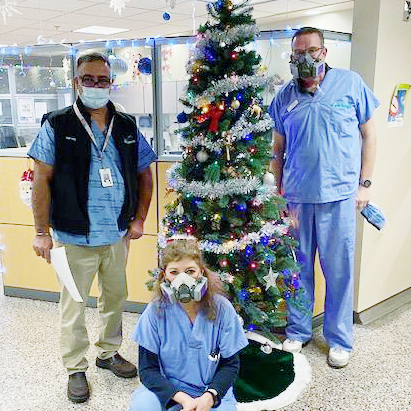 The medical frontline in Vancouver General Hospital's TB Unit
Previously, the policy was to allow patients to leave the unit only when accompanied by the recreation therapist. One patient in particular was very appreciative of being able to go outside on his own as his son, daughter-in-law and four young grandchildren had re-located to Vancouver from the East coast while he was in hospital recovering from TB. The joy on this man's face when he came back from celebrating his birthday with family he had not seen in person for six years was absolutely priceless.
Because the patient population on the TB unit is so culturally diverse, providing culturally-relevant leisure activities is a must.
This year Douglas College recreation therapy program students researched activities that would appeal to Punjabi, Mandarin, Cantonese and French-speaking patients, and provided suggestions for all the requested languages, as well as step-by-step directions for each activity in both English and the original language. 
As in previous years, the iPads are very popular.
Beyond the typical entertainment apps, our patients also use them to stay in touch with friends and family. We had two instances where patients virtually attended funerals for family members. One was a patient admitted to us from Whitehorse, Yukon, whose father unexpectedly passed away while in the Philippines. By using our iPad, she was able to participate virtually in traditional ceremonies important to her culture during a most difficult time.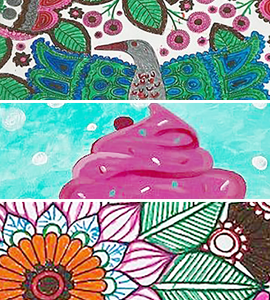 Creative pursuits of patients in the TB ward
We asked patients who were transferred from other hospitals, where some of them had left treatment against medical advice, what they found most helpful at the TB unit at VGH. One patient said: "I'm a very social person. Here I can wander around, meet people and even go outside. At the other hospital, they wouldn't let me out of my room and I only saw staff for a few minutes a day. It felt like a prison." This contrasting experience speaks volumes to the impact TB Vets support has on the quality of life of our patients, and how it helps them complete their treatment. So on behalf of all of our staff and especially patients, thank you!