TB Vets donors are helping advance patient care in Powell River with the gift of two new respiratory machines worth $12,800. 
The CPAP (Continuous Positive Airway Pressure) equipment assists patients with obstructive sleep apnea so that they can breathe easily during sleep.
Respiratory care from hospital to home
Respiratory patients at Powell River General Hospital who require CPAP upon discharge typically wait until equipment can be delivered from Island CPAP Services on Vancouver Island. This results to discharge delays of up to three days.
TB Vets' respiratory grant will help jumpstart a loaner program so that patients can transition more easily from hospital to home while waiting.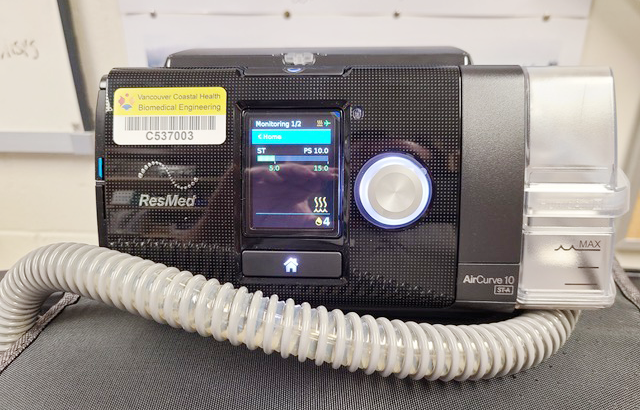 Quick access to the TB Vets-funded CPAP machines enables the medical team to provide education to patients directly and early on the patient journey. This helps patients become more comfortable and confident with their CPAP equipment prior to leaving the hospital.
While relatively a small respiratory grant, the difference the machines make to approximately 25 to 30 patients a year in the community is tremendous, and in turn also impacts the hospital's capacity.
Powell River General Hospital is a 33-bed facility that serves a population of approximately 20,000 people isolated by ferries on the Upper Sunshine Coast. The respiratory grant was made through the hospital's volunteer-led Foundation.
Topmost Photo: Powell River General Hospital Respiratory Technologist Samantha with the CPAP machine funded by TB Vets