TB Vets donors' generous support has made state-of-the-art equipment readily available in Langley Memorial Hospital.
As technology advances, so does respiratory equipment. With the HAMILTON-MR1 ventilator from TB Vets, caregivers have specialized support to save lives and provide care that's safer and more comfortable to patients.
Why a specialized ventilator matters
Often, injured or fragile patients on a ventilator need to undergo a Magnetic Resonance Imaging (MRI) procedure, which allows medical staff to do further examinations of tissue or dense matter not possible through a CT scan.
To be able to perform MRI, a compatible ventilator is necessary. Regular ventilator units are not safe as they contain metal with magnetic properties, and MRI technology can pull the metal off these machines. To prevent this, an extension needs to be attached to conventional ventilators.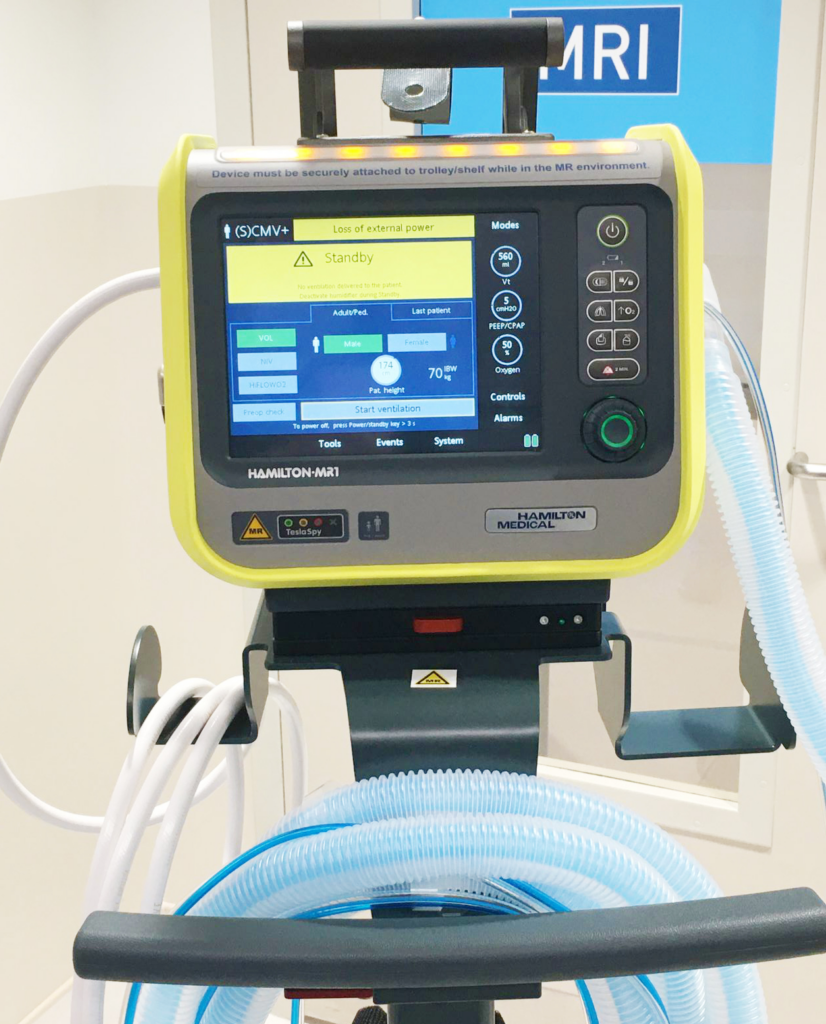 Close-up of the specialized ventilator from TB Vets donors
 "[And we'd have to] manually ventilate our ICU patients during the entire duration of the MRI scan, which can be over an hour long and is very labour intensive," explains Aman Badesha, a Professional Practice Leader with Langley Memorial Hospital's Respiratory Therapy department.
That, or Langley residents may need to travel to neighbouring communities for an MRI exam.
TB Vets-funded ventilator complements new MRI suite
The HAMILTON MR-1 ventilator is a timely gift to Langley Memorial Hospital as they recently opened a new MRI suite, the first and only in the community.
With the new equipment, 60 – 100 ventilated patients each year now have access to safe MRI scans right at their local hospital, speeding up diagnosis and treatment options for all– from adults and seniors to children and infants.
Moreover, it eliminates external transport, which involves risks and puts strain on resources as hospital transfers require a medical team away for as long as four to six hours.
The respiratory team and caregivers in Langley are deeply grateful to TB Vets for this valuable equipment. "The ventilator has been a game-changer," says Aman. "We can finally use one inside the MRI suite, offering comfort from breath to breath."